Posts for tag: smoking
By Sandy Rosenberg, DMD
March 01, 2019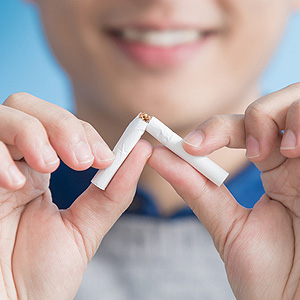 If you smoke, you know better than anyone how a hard a habit it is to kick. If you want to quit, it helps to have a motivating reason—like lowering your risk for cancer, cardiovascular disease or similar conditions.
Here's another reason for quitting tobacco: it could be making your teeth and gums less healthy. And, if you're facing a restoration like dental implants, smoking can make that process harder or even increase the risk of failure.
So, to give your willpower some needed pep talk material, here are 3 reasons why smoking doesn't mix with dental implants.
Inhaled smoke damages mouth tissues. Though you may not realize it, the smoke from your cigarette or cigar is hot enough to burn the top layer of skin cells in your mouth, which then thickens them. This could affect your salivary glands causing them to produce less saliva, which in turn could set off a chain of events that increases your risk of tooth decay or periodontal (gum) disease. The end result might be bone loss, which could make installing dental implants difficult if not impossible.
Nicotine restricts healthy blood flow. Nicotine, the chemical tobacco users crave, can restrict blood flow in the tiny vessels that course through the mouth membranes and gums. With less blood flow, these tissues may not receive enough antibodies to fight infection and fully facilitate healing, which could interfere with the integration of bone and implants that create their durable hold. Slower healing, as well as the increased chances of infection, could interrupt this integration process.
Smoking contributes to other diseases that impact oral health. Smoking's direct effect on the mouth isn't the only impact it could have on your oral health. As is well known, tobacco use can increase the risk of systemic conditions like cardiovascular and lung disease, and cancer. These conditions may also trigger inflammation—and a number of studies are showing this triggered inflammatory response could also affect your body's ability to fight bacterial infections in the mouth. Less healthy teeth, gums and underlying bone work against your chances of long-term success with implants.
If you would like more information on dental implants, please contact us or schedule an appointment for a consultation. You can also learn more about this topic by reading the Dear Doctor magazine article "Dental Implants & Smoking: What are the Risks?"
By Sandy Rosenberg, DMD
December 11, 2018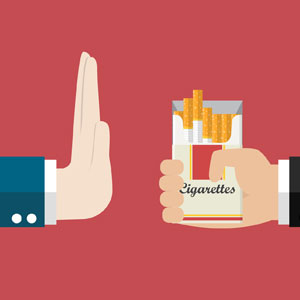 Your risk for periodontal (gum) disease increases if you're not brushing or flossing effectively. You can also have a higher risk if you've inherited thinner gum tissues from your parents. But there's one other risk factor for gum disease that's just as significant: if you have a smoking habit.
According to research from the U.S. Centers for Disease Control (CDC), a little more than sixty percent of smokers develop gum disease in their lifetime at double the risk of non-smokers. And it's not just cigarettes—any form of tobacco use (including smokeless) or even e-cigarettes increases the risk for gum disease.
Smoking alters the oral environment to make it friendlier for disease-causing bacteria. Some chemicals released in tobacco can damage gum tissues, which can cause them to gradually detach from the teeth. This can lead to tooth loss, which smokers are three times more likely to experience than non-smokers.
Smoking may also hide the early signs of gum disease like red, swollen or bleeding gums. But because the nicotine in tobacco restricts the blood supply to gum tissue, the gums of a smoker with gum disease may look healthy. But it's a camouflage, which could delay prompt treatment that could prevent further damage.
Finally because tobacco can inhibit the body's production of antibodies to fight infection, smoking may slow the healing process after gum disease treatment.  This also means tobacco users have a higher risk of a repeat infection, something known as refractory periodontitis. This can create a cycle of treatment and re-infection that can significantly increase dental care costs.
It doesn't have to be this way. You can substantially lower your risk of gum disease and its complications by quitting any kind of tobacco habit. As it leaves your system, your body will respond much quicker to heal itself. And quitting will definitely increase your chances of preventing gum disease in the first place.
Quitting, though, can be difficult, so it's best not to go it alone. Talk with your doctor about ways to kick the habit; you may also benefit from the encouragement of family and friends, as well as support groups of others trying to quit too. To learn more about quitting tobacco visit www.smokefree.gov or call 1-800-QUIT-NOW.
If you would like more information on how smoking can affect your oral health, please contact us or schedule an appointment for a consultation. You can also learn more about this topic by reading the Dear Doctor magazine article "Smoking and Gum Disease."
By Sandy Rosenberg, DMD
August 15, 2014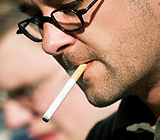 In a recent study, 92% of dental implants were found to have survived the twenty-year mark — an impressive track record for any dental restoration.
Still, implants do fail, although rarely. Of those failures, tobacco smokers experience them twice as often as non-smokers. The incidence of early failure (within the first few months after implantation) is even higher for smokers.
Early implant failure typically happens because the titanium implant and the surrounding bone fail to integrate properly. Titanium has a natural affinity with bone — the surrounding bone will attach and grow to the titanium in the weeks after surgery, forming a strong bond. An infection around the implant site, however, can inhibit this integration and result in a weaker attachment between bone and implant. This weakness increases the chance the implant will be lost once it encounters the normal biting forces in the mouth.
Smokers have a higher risk of this kind of infection because of the way tobacco smoke alters the environment of the mouth. Inhaled smoke burns the mouth's top skin layers and creates a thick layer of skin called keratosis in its place. Smoke also damages salivary glands so that they don't produce enough saliva to neutralize the acid from food that's left in the mouth after eating. This creates an environment conducive to the growth of infection-causing bacteria. At the same time, the nicotine in tobacco can constrict the mouth's blood vessels inhibiting blood flow. The body's abilities to heal and fight infection are adversely affected by this reduced blood flow.
The best way for a smoker to reduce this early failure risk is to quit smoking altogether a few weeks before you undergo implant surgery. If you're unable to quit, then you should stop smoking a week before your implant surgery and continue to abstain from smoking for two weeks after. It's also important for you to maintain good brushing and flossing habits, and semi-annual dental cleanings and checkups.
Although smoking only slightly raises the chances of implant failure, the habit should be factored into your decision to undergo implant surgery. Quitting smoking, on the other hand, can improve your chances of a successful outcome with your implants — and benefit your life and health as well.
If you would like more information on the effects of smoking on dental health, please contact us or schedule an appointment for a consultation.