Posts for tag: floss
By Sandy Rosenberg, DMD
July 09, 2019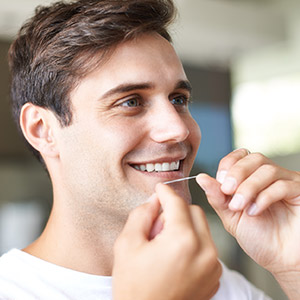 A certain news story a few years ago notwithstanding, dentists still recommend flossing along with brushing to adequately remove disease-causing plaque. If there is any controversy at all about flossing, it's whether you should perform it before brushing or after. Each perspective has good reasons.
"Brush First" proponents say their way encourages the formation of a daily hygiene habit, a must for preventing disease. That's because brushing can remove most of the plaque built up on the teeth, while flossing can then remove what's left. If you floss first, though, you'll have to plow through the sticky film with the floss, which can be an unpleasant experience. Facing that every day could make a person less enthusiastic about developing a hygiene habit.
But it's not just about the sensation: depending on the person, the plaque buildup could be so much that the floss becomes clogged with it. You're then moving the plaque rather than removing it. Brushing a lot of the plaque out of the way first will increase the cleaning power of your floss.
The "Floss First" team, though, is undaunted with their own take on the matter. Flossing can loosen up any stuck debris between teeth, making it easier for brushing to clear it away. It can also expose plaque-covered areas between teeth to allow better contact with the fluoride in your toothpaste. And, the amount of plaque you're pulling out in certain areas during flossing could tip you off to beef up your brushing efforts on those areas of heavier plaque accumulation.
One of the prime reasons for flossing first, though, goes back to the comfort factor and human nature. To be honest, for most people flossing isn't as much "fun" as brushing. If you put it off until after brushing, you're more likely not to do it if you find it unpleasant. Doing it first gets the less likeable task out of the way, so you can then do the more likeable one, brushing.
Which approach is best for you? It's really a personal decision, one you can discuss with your dentist. Try both ways, and see which one seems better. But whether you floss first or last, do floss to really reduce your risk for dental disease.
If you would like more information on best oral hygiene practices, please contact us or schedule an appointment for a consultation. You can also learn more about this topic by reading the Dear Doctor magazine article "Brushing and Flossing: Which Should be Done First?"
By Sandy Rosenberg, DMD
July 17, 2014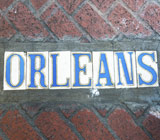 Think of New Orleans, Louisiana, and what comes to mind? The sound of jazz pouring out from a nightclub in the French Quarter… the smell of shrimp boiling in a spicy gumbo… the fresh feeling you get after you've cleaned between your teeth with dental floss?
You may not know it, but besides its culinary charms and musical mojo, New Orleans has another claim to fame: It's the historical home of dental floss. In the early 1800's, a pioneering dentist by the name of Dr. Levi Spear Parmly recommended that his patients clean between their teeth with a silken thread. Long before the role of oral bacteria was recognized, it was Dr. Parmly's belief that cavities were caused by foreign material on the tooth surfaces. But it took until nearly the end of the century for his invention to become available in handy dispensers. And the rest, as they say, is history.
Today, of course, we know much more about the causes and treatment of tooth decay. For example, we know that harmful bacteria in plaque — the sticky biofilm that builds up on your teeth in the absence of effective cleaning — release chemical substances that erode tooth enamel; this causes cavities (tiny holes in the tooth) to begin forming. We also know that while brushing alone helps remove plaque, it's far and away more effective when combined with flossing.
Yet there's one thing we're still not sure of: Why don't more people use dental floss regularly? Did you know that with careful attention to your oral hygiene, tooth decay is almost completely preventable? Plus, dental floss is now available in many different varieties: It's no longer made of silk, but can consist of nylon or gore-tex thread; it comes waxed or unwaxed, round or flat… even flavored like mint or bubble gum!
So here's our suggestion: Find a style of dental floss you like, picture yourself on Bourbon Street… and spend a few minutes flossing every day. Your teeth will say "merci beaucoup."
If you would like more information about flossing and cavity prevention, please call our office to schedule a consultation. You can learn more in the Dear Doctor magazine article "Tooth Decay."